(c) Stuart J T Dodds, 2017
smarter pricing, smarter profit:
a 'one-of-a-kind' resource
Smarter Pricing, Smarter Profit provides an easy-to-read road- map to guide you through the steps to improving your law firm s existing pricing and legal project management capability, as well as its overall profit contribution, in this ever changing legal environment.
It addresses the full commercial spectrum of winning and engagement through to its successful completion - from the initial setting of price, to client negotiation, to delivery of services and review of performance.
This one-of-a-kind resource is centered around a Set - Get - Manage - Review framework, providing a comprehensive, structured, and clear approach to addressing the increasingly complex pricing and delivery challenges faced within legal services.
It is essential reading for anyone tasked with managing and enhancing overall profitability within their respective law firm.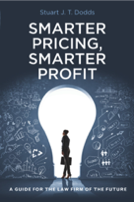 "People often ask me what is the one thing I suggest they read in order to understand all of the changes in the [legal] market and how their firms can best adapt. I now have an answer for them: Read this book. "
- Toby Brown, Chief Practice Officer, Perkins Coie
"The book should be required reading for anyone leading pricing or LPM initiatives in law firms"
- Susan Raridon Lambreth, Principal, LawVision Group and LPM Institute, co-author of The Power of Legal Project Management
" . . .a must have reference work for anyone who is responsible for generating revenues and profit at a law firm."
- Ori Wiener, co-founder and Director of the Moller PSF Group, Cambridge

Available in book & eBook formats